Design in recyclable plastic material
Our passion is to create stylish and functional design products with playful color combinations that will help you put a Swedish touch in your life. We inspire people worldwide with 100% recyclable collections made exclusively of eco- friendly thermoplastics.

Perstorp Design is now run by designer Christina Fäldt, that carries on the tradition and manufactures the classic Perstorp bag that was designed in the early 1950s by Perstorp AB. Many have tried to copy our classic design quality. Fortunately, people value authenticity and creativity. Indeed, the original.

You can find our collections in Sweden, Norway, Denmark, Finland, Germany, France, Belgium, Italy, Spain, Japan, China, Malaysia and UK.

ECO friendly Polyethylene

Our products are manufactured from recyclable polyethylene plastic. Polyethylene is a completely organic material that is highly energy efficient to produce. A polyethylene product can be reused and recycled many times before it finally goes into combustion in a thermal plant. The only by-products of the combustion of polyethylene plastic are carbon dioxide and water.

Eco-friendly Green Polyethylene - Green Plastic

Our "Green Plastic" products are made of green polyethylene consisting of renewable raw materials such as corn, cassava, sugar cane or beet. Bioplastics / Green Plastic can be recycled in the same way as ordinary plastic.

Nature looks at greenhouse gases, such as carbon dioxide, as a raw material. That's what trees and plants are built from. When making Bioplast / Green Plastic, plants like corn, cassava, sugar cane or beet are used to capture carbon dioxide from the air and convert it into sugar molecules. The goal is to use as near-produced raw material as possible. Research is under way to produce sugar molecules from wood chips or straw.

The story of the bags from Perstorp, Sweden.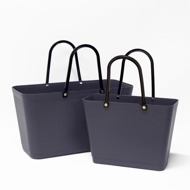 Sveaplast AB / Perstorp Design AB

1918 tillverkades den första plasten i Perstorp av företaget Skånska Ättiksfabriken.
1950-talet Plasten vandrar in i det svenska folkhemmet och de första väskorna i plast tillverkades.
1973 grundades Sveaplast AB av Nils Johansson som en avknoppning av Perstorp AB. Sveaplast har fortsatt traditionen med tillverkning av olika plastföremål. Idag är Perstorp Design (Sveaplast) den denna plasttillverkningen i Perstorp som fortfarande för traditionen vidare med design, konstruktion och tillverkning av plastföremål.